First of all, when someone tells me about a secret recipe for becoming pregnant, I'm always suspicious. Because miracles, when it comes to an unfulfilled desire for children, unfortunately, are rare. That's why I've been thinking for a long time about whether this headline is right. But I think the matter will do it justice. Egg quality and oocyte quantity play a crucial role in the reproductive health when you are trying to concieve. This is especially true for IVF or ICSI procedures – but is also relevant in the natural menstrual cycle.
I recently published an article describing the supplements for improving egg cell quality. The post is very popular: many women want a baby and want to get pregnant, but it just isn`t successful. That's why I researched further on this topic and found relevant data on Instagram.
There, many women report on their experiences and concerns about the issue of concieving. One of these women is kiwu.journey. She has now undergone through 3 unsuccessful ICSIS and therefore made some efforts to improve fertility in preparation for her 4th ICSI.
She demonstrably improved the quality and quantity of her eggs. However, she did not opt ​​for standard products.
Improving the egg quality and oocyte quantity

That's why I asked kiwu.journey for her secret recipe for improving the quality of her eggs.

She not only gave me a short interview, she also provided a photo. Just like me, she wants to help many couples with an unfulfilled desire for children. Just great! (Here's also the recipe for the man aiming to improve his fertility, by the way.)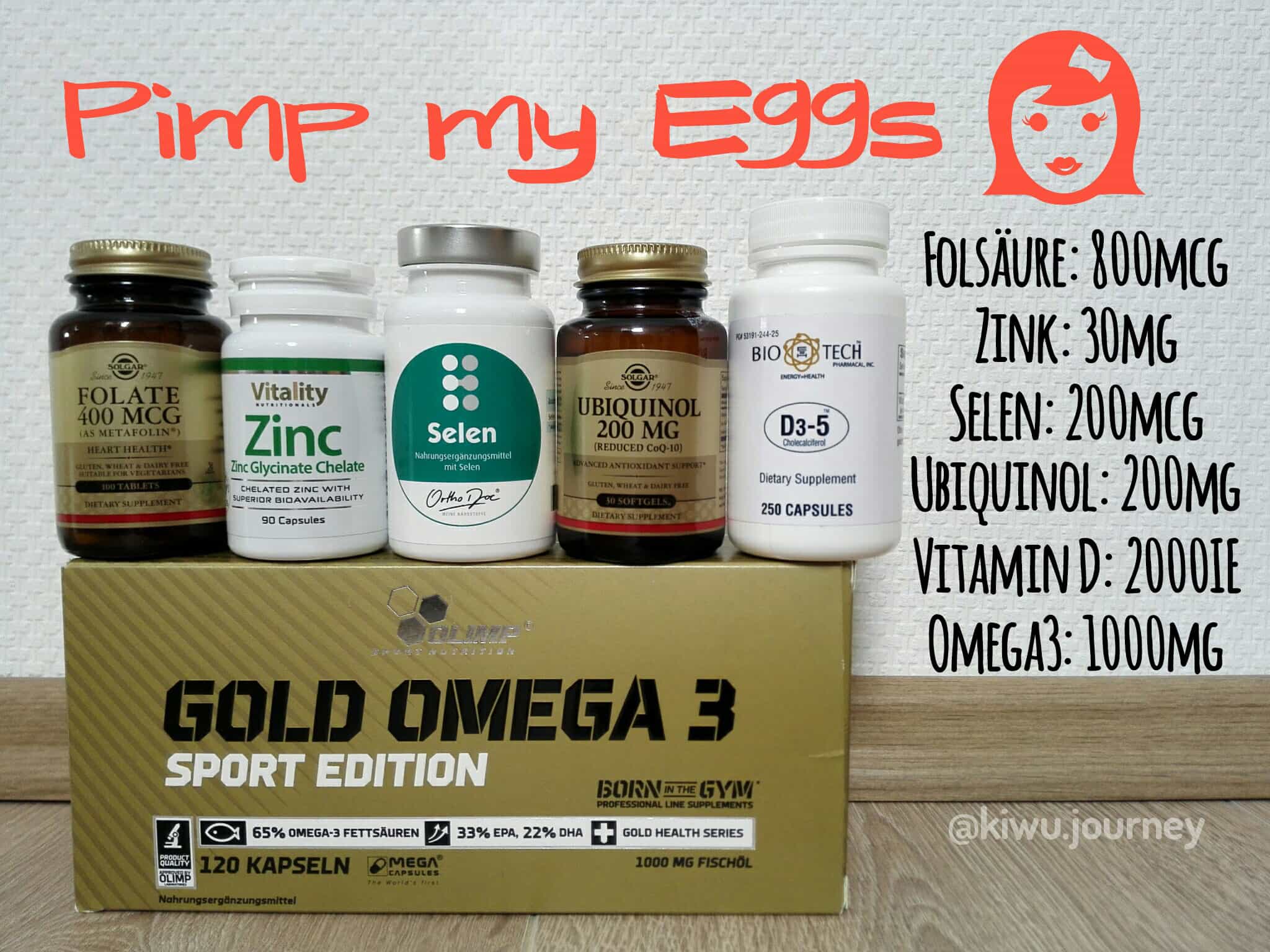 (The links to the products can be found below in the text.
There are partially also products from other manufacturers in the photo, but all are recommended by Kiwu.journey).
Kiwi.journey herself has done an incredible amount of research and read a lot of scientific studies and books. Most of the relevant information can be found in the English literature.
Kiwu.journey explained:
"I did a lot of research on PubMed, an English-language platform. Many scientific studies from all over the world are collected in PubMed. I also read a lot in the book. Also in this book, there are over 100 references to studies I already knew. The starting point for everything around vitamin D was with the book. However, this refers only to a minor part of reproductive health. That's why I researched deeper on the internet."
The realization: One usually resorts to underdosed and expensive combination products.
Kiwu.journey continues, "Well, what I did first when I read about this or that vitamin and was advised in the literature that it should be beneficial for me: I looked at what form you should take it. My focus was on the highest possible bioavailability and as little chemistry as possible. "
She gave me the following examples:
Folic acid comes in different forms. The best bioavailable form is metafolin. It is similar with selenium. Here you should take the good Selenmethionin. Also with the Q10 it is much more useful to take the already converted form Ubiquinol.
"Because quality is important to me, I also find nothing suitable in the local retail sector. Here you will find only very bad "cheap" forms of vitamins. That which is excreted by your body almost directly, because the stomach and intestine can not completely absorb it. So I was forced to look on the internet. "
With the products mentioned here, kiwu.journey has had the best experience. Do not let yourself be confused if some other products are shown in the photo. Not all manufacturers are always available. The products behind the links are similar to those recommended in the photo and by kiwu.journey as well.
Based on these experiences she comes to follow day by day the following recommendations:
(* Amazon partner links)
The intake should start in about 3-4 months before (before an IVF or ICSI, but of course it is also possible to use these products during the natural menstrual cycle). Oocytes, like sperm, take about 3-4 months to mature. One should distribute the supplements throughout the day – preferably not on an empty stomach, but with meals, since, for example, Vitamin D is liposoluble. Zinc and selenium should be taken separately if possible.
If all this is too much or too expensive, you should not miss the high-dose Q10 (Ubiquinol) as well as the high-quality vitamin D. If you consider how much money you put into the fertility treatment, the investment in better oocytes could be really worth it :-))
The chances of getting pregnant increase as a result and through that also the probability of having a baby is becoming greater.
The needed personal dose of your own vitamin D requirement can be calculated from the blood levels: http://www.melz.eu/index.php/formeln/vitamin-d-substituierung If you do not know your own value, you are well provided for with 2000 IE.
Through dietary supplements the oocytes are prepared for the attempt at concieving in the best possible way. If they are then "harvested", this is not necessary anymore. So you can stop with most vitamins at the time of the egg puncture. Continue only with the supplements that are very important for the embryo, e.g. Vitamin D and folic acid.
If it did not work out and a new try is necessary there is usally a break inbetween the attempts. If the pregnancy test is negative, you can start again with the process. Also with insemination, you can either handle it the same way or you can just keep on taking the supplements because the breaks between IUIs are shorter. Basically, "Pimp my Eggs" is suitable for all women, but especially for IVF / ICSI patients, in which many egg cells need to develop and ripen.
Vitamin D should always be taken with a fatty meal (even a piece of cheese is enough). Zinc is best taken separately from selenium, but also with a meal. It is irrelevant at what time of the day Q10 is taken. Any time of the day is ok.
Women with coagulation disorders should consult with their doctor before taking Q10 supplements as it also affects blood clotting. Anyone else, who has any concerns should, of course, talk to their physician.
At this point again a big thank you to kiwu.journey on behalf of all women whom this information will help on their journey to concive and bear their desired child!
Questions about Pimp my eggs? Click here for the Facebook group
Since many women now use Pimp my eggs and questions keep coming up, I established a closed group on Facebook for the exchange. You are welcome to join here: Pimp my Eggs on Facebook.
All products for you at a glance *:
*  Amazon Affiliate Links/ Letzte Aktualisierung am 25.05.2020 /  Bilder von der Amazon Product Advertising API
https://www.wegweiser-kinderwunsch.de/wp-content/uploads/2016/03/pimp-my-eggs-qualität-eizellen.jpg
650
1000
Claudia
https://www.wegweiser-kinderwunsch.de/wp-content/uploads/2015/07/Wegweiser_Logo_Orange.png
Claudia
2019-11-12 11:36:37
2020-05-11 18:10:10
Pimp my eggs: Improving the egg quality and oocyte quantity (The secret recipe from my German Blog)